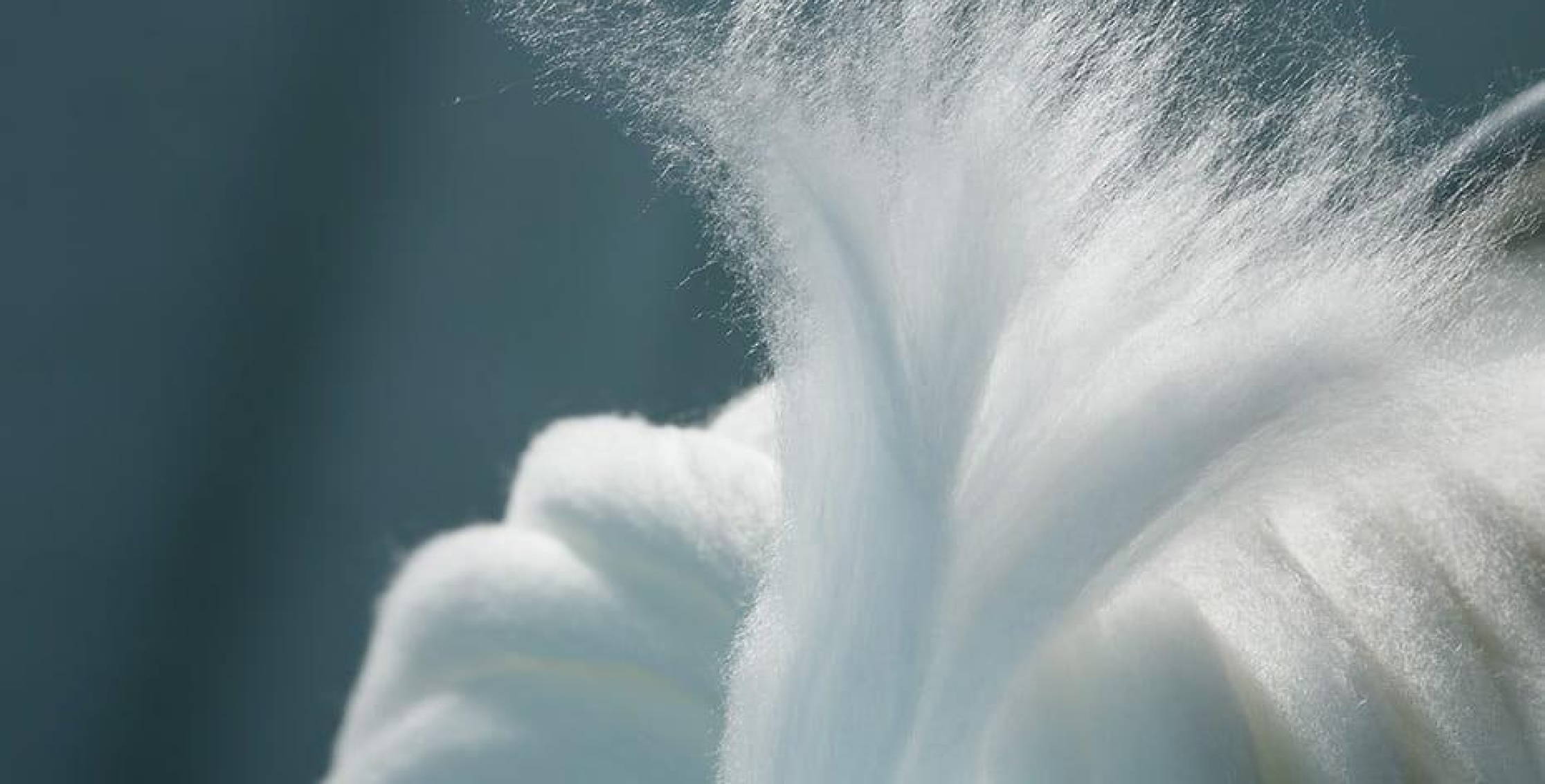 Tencel™ Lyocell is a natural sustainable fabric that is as soft and airy as cotton. It wicks away moisture, so you don't wake up sweating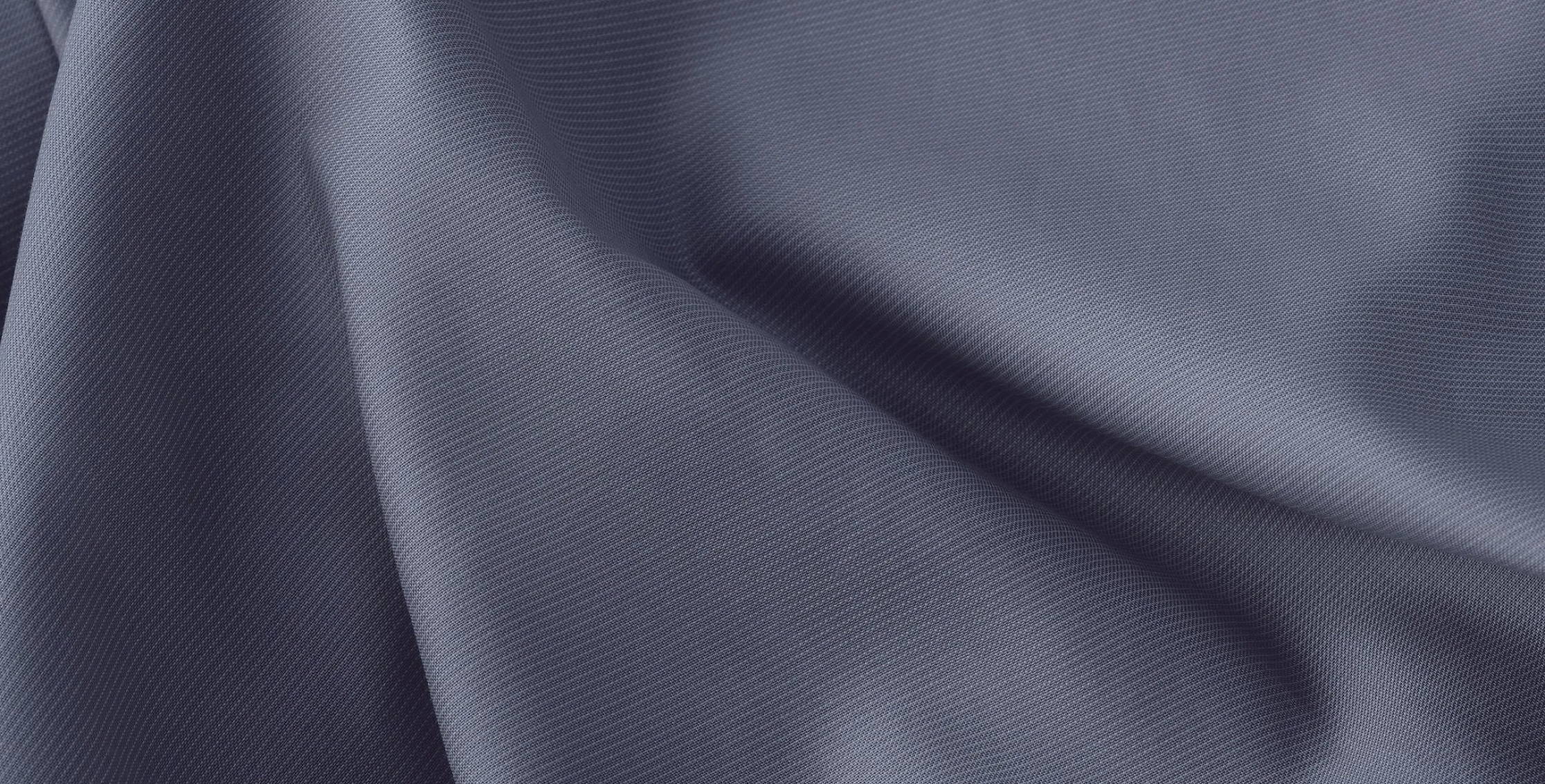 Tencel™ Lyocell is a natural sustainable fabric that is as soft and airy as cotton. It wicks away moisture, so you never wake up sweating
More than just self-cleaning...
More than just
self-cleaning...
More than just self-cleaning...
The fusion of Tencel™ and Silver also means that your sheets are:
The fusion of Tencel™ and Silver also means that your sheets will make you feel like you're sleeping in a five-star hotel every night...

2x more durable than Bamboo

Pair perfectly with a Gravid blanket & Pillow

Pill-free (zero fuzz balls in your bed)

Thermoregulating at night

…So you can feel like you're sleeping in a five-star hotel every night.
…So you can feel like you're sleeping in a
five-star hotel every night.
Trusted by 55,000+ Happy Sleepers
Not to mention that they're...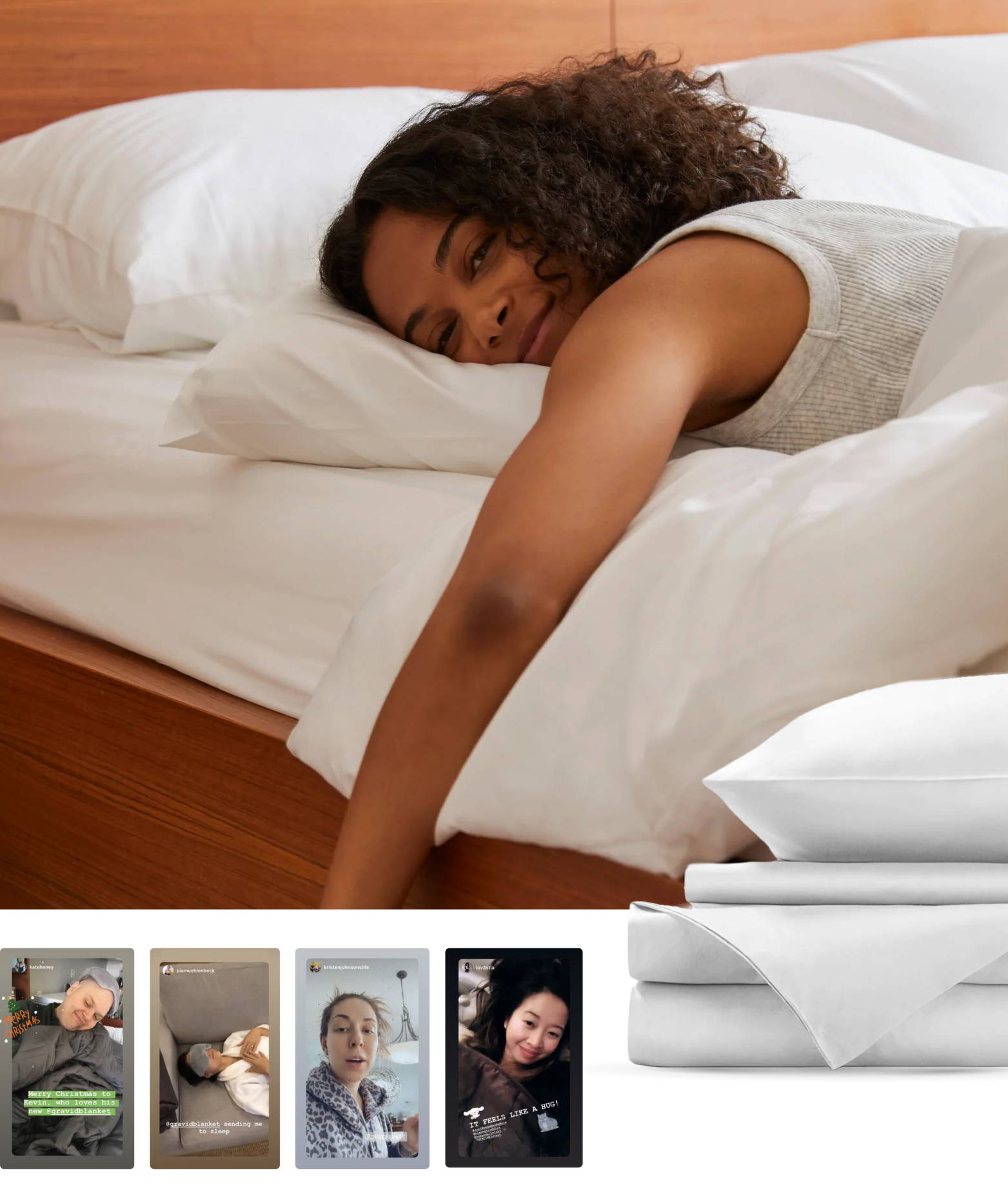 Trusted by 55,000+ Happy Sleepers

Gravid's Sheets Vs. Others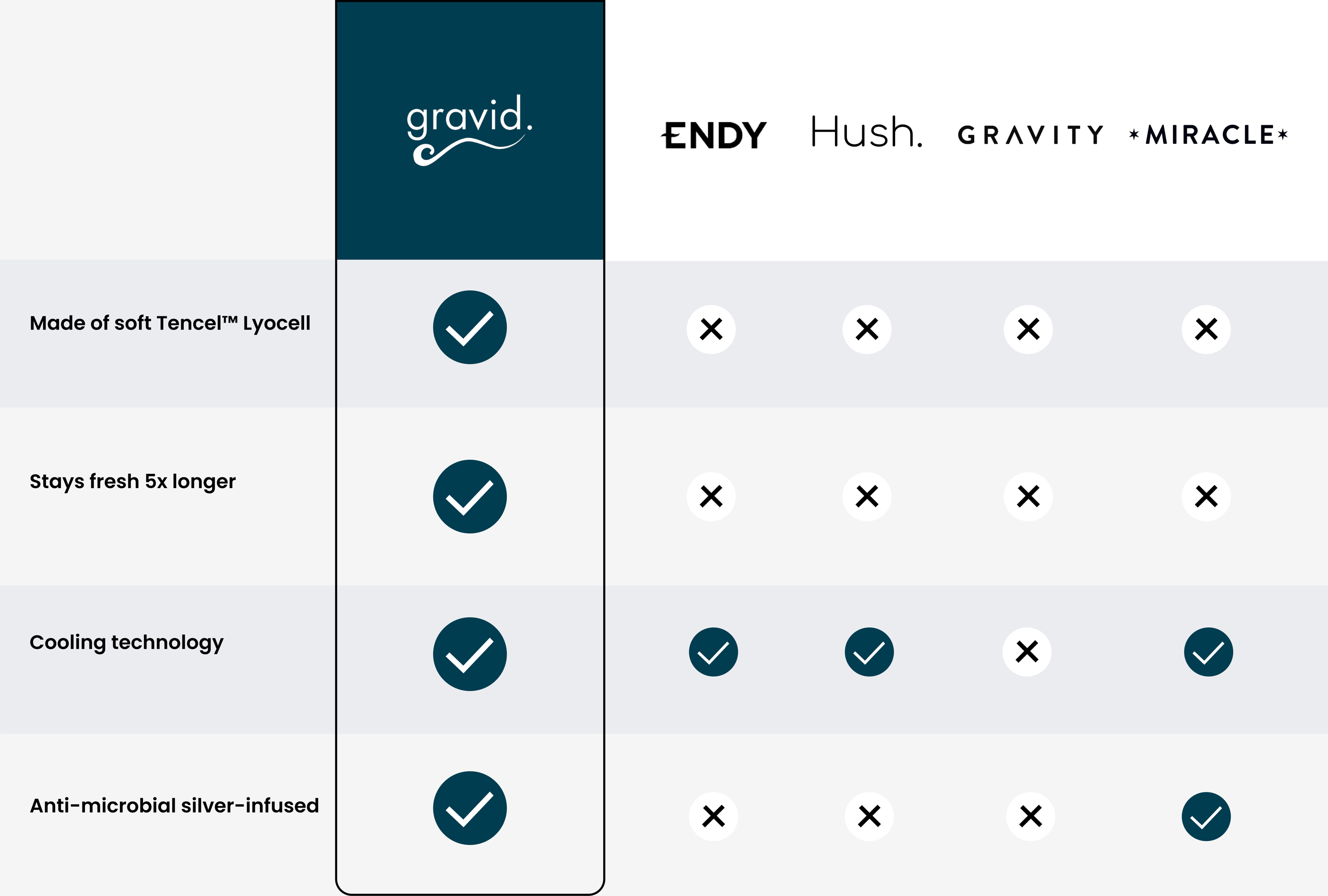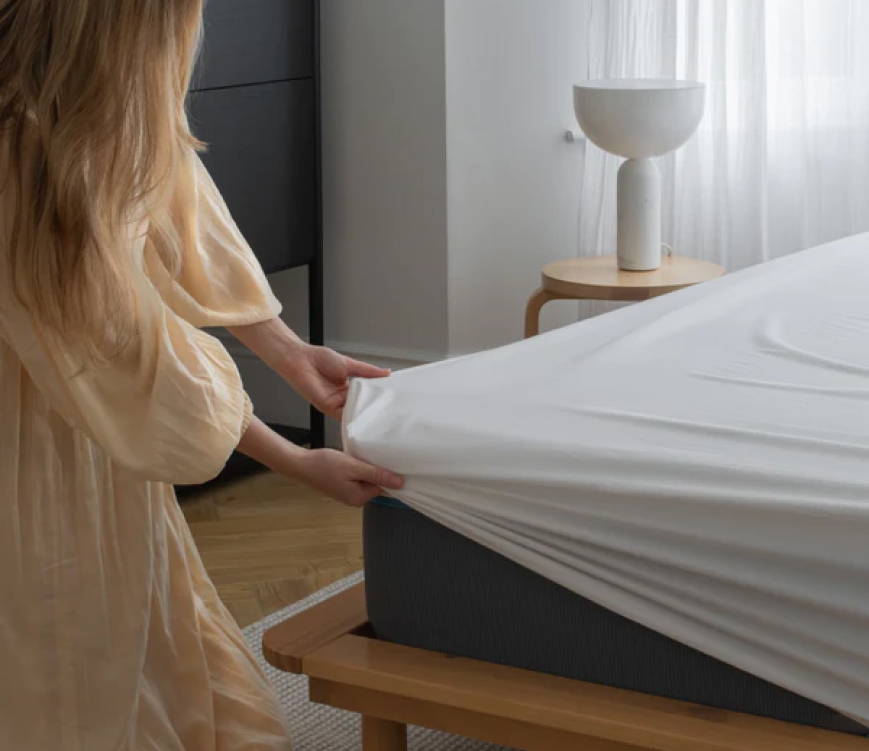 Breeze™ Sheets have a special secure-band so your fitted sheet never slips off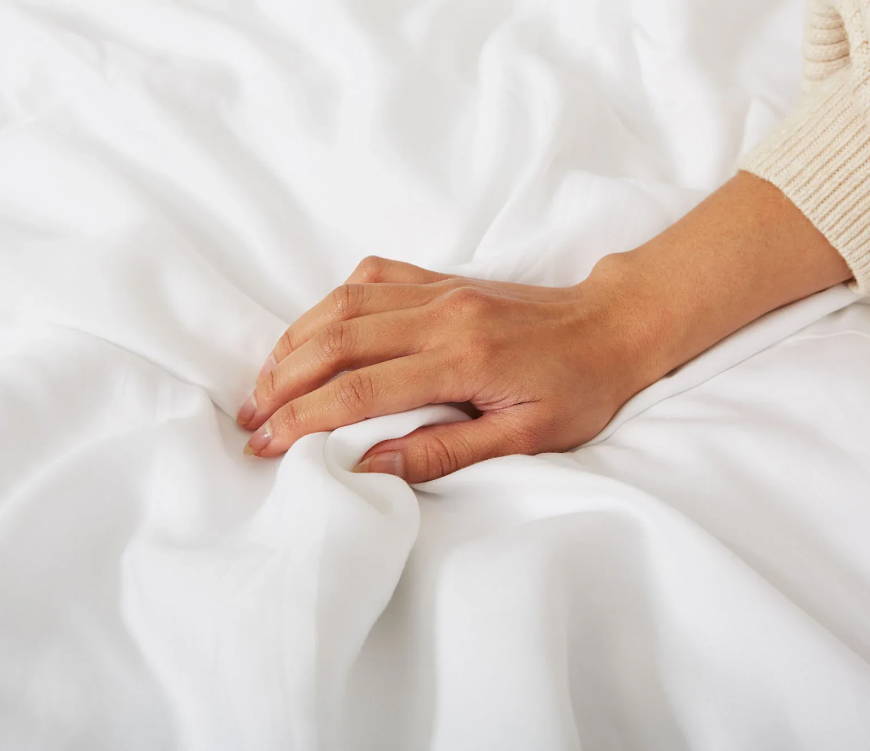 Enjoy clean, luxurious hand-soft sheets with an airy breeze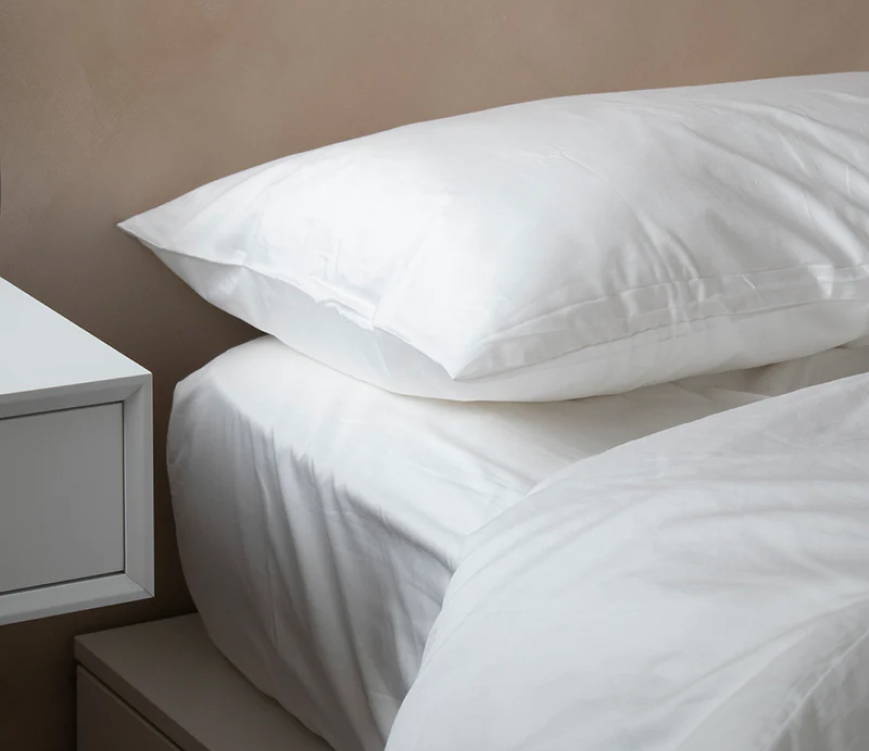 3. Only wash every 1-2 months
Washing your sheets isn't fun, so now you can do it 5x less often.
Not just a regular "sheet"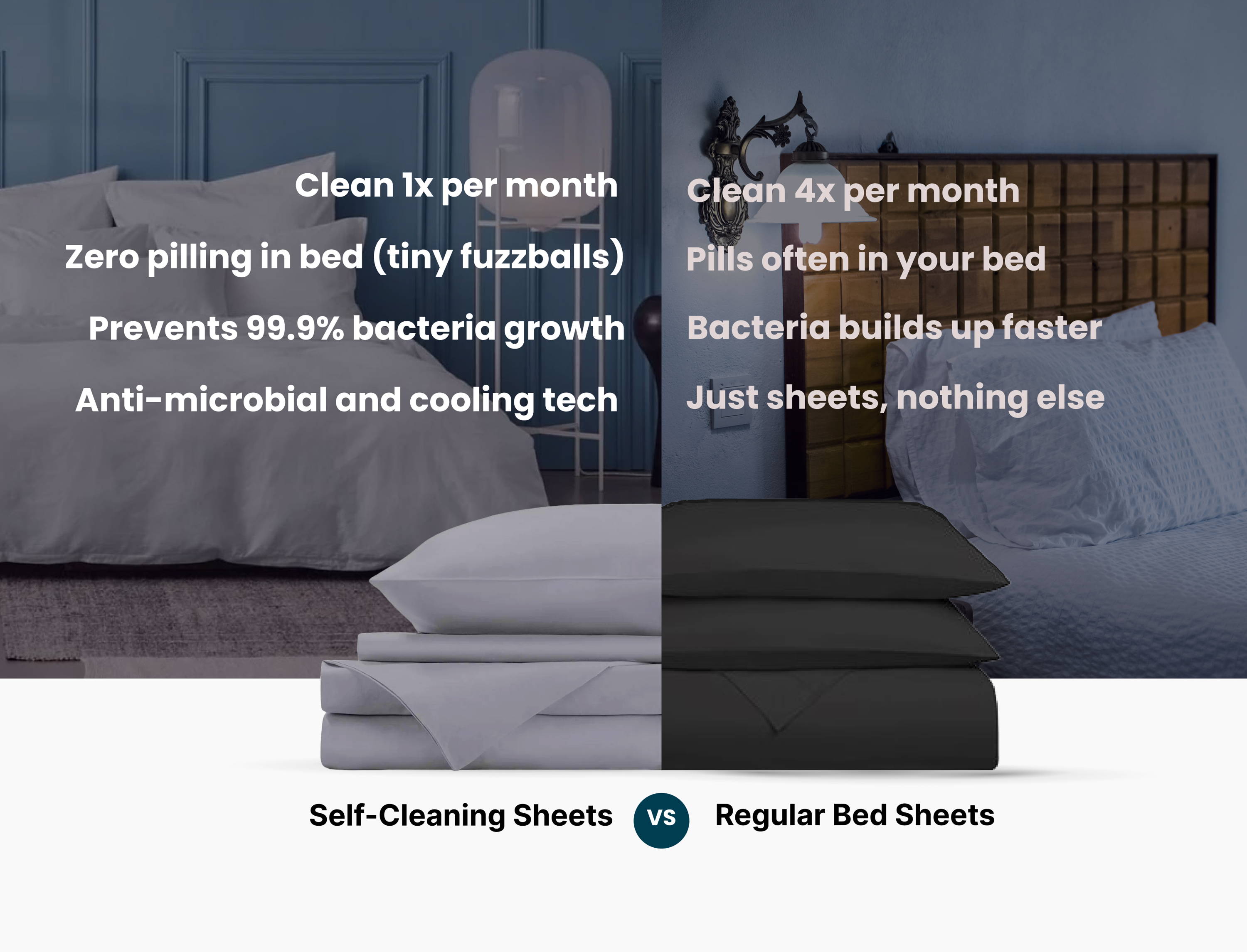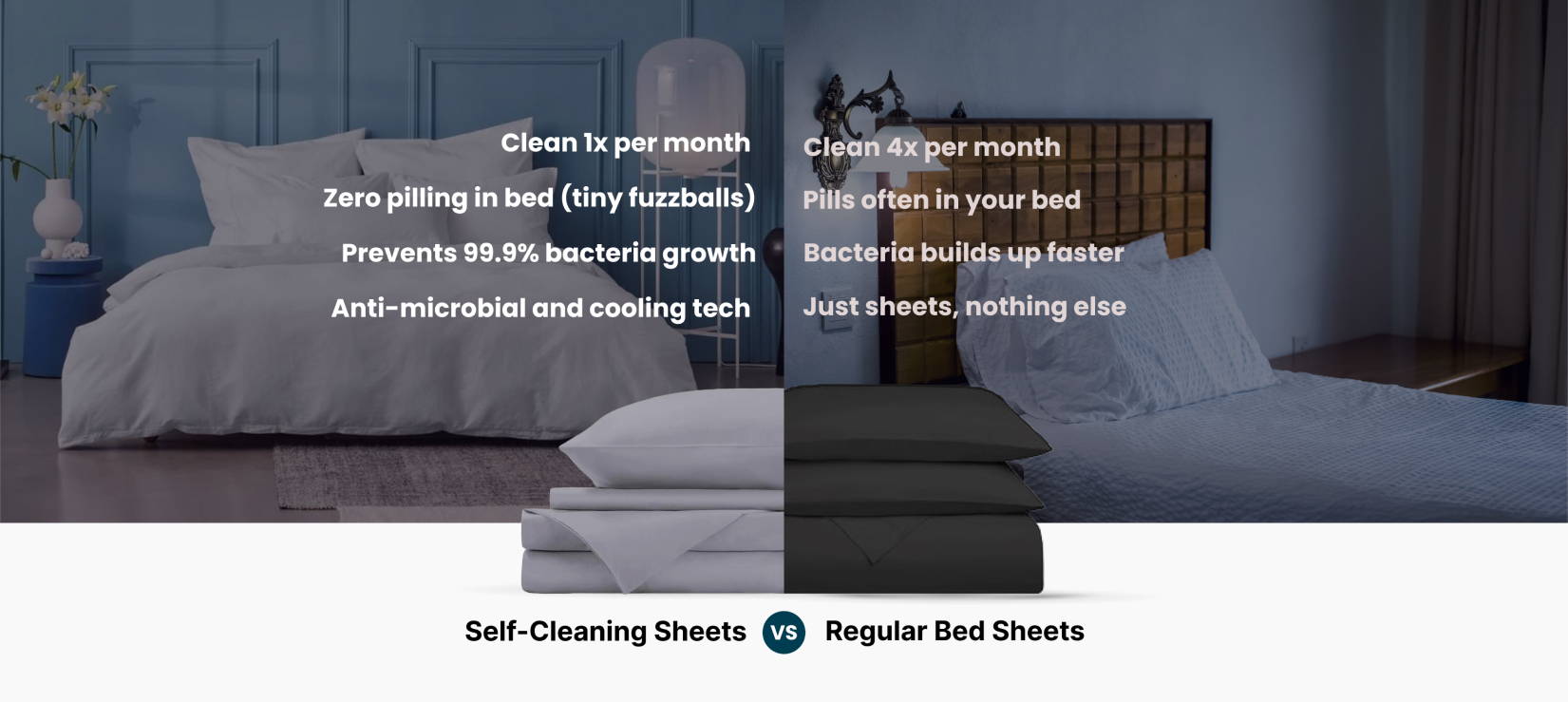 100% Money Back Guarantee
Seriously. If you don't absolutely fall in love with it, just send it back.
No hassles, no questions asked. We're cool ;)
Your Sheets Questions, Answered.
If you're in Canada, expedited shipping is FREE!
If you're outside of Canada, a shipping rate will be calculated at checkout and you will have an opportunity to verify it before completing your purchase.
What size are the sheets?
Twin Size Flat Sheet: 66" x 96"
Queen Size Flat Sheet: 90" x 102"
King Size Flat Sheet: 102" x 108"
Twin Size Fitted Sheet: 39" x 75" + 16"
Queen Size Fitted Sheet: 60" x 80" + 16"

King Size Fitted Sheet: 76" x 80" + 16"
Pillowcase: 20" x 26''
What's included in the Breeze™ Sheets Set?
For all sizes:
- 1 Fitted Sheet
- 1 Flat/Top Sheet
- 2 Pillowcases (or 1 for Twin)
Do the sheets pair with my Gravid blanket and REM pillow?
Yes. The sheets are made with heavier weight support in mind. This way you can enjoy your Gravid sleep items along with the self-cleaning sheets. The pillowcase is perfectly sized for your Gravid REM Pillow.
How do I wash my self-cleaning sheets?
The self-cleaning sheets can be washed in your machine on a cool, gentle cycle with a small amount of liquid detergent.

Tumble dry on a cool setting until dry.
When can I expect my sheets?
Once your order is placed, we ship it out from our Brampton, Ontario warehouse within 1 business day. We ship by Canada Post, UPS and Purolator.
You will receive an email with your tracking number once processed, usually within 24 hours of placing your order.
Canada Post/UPS/Purolator transit times:
ON, QC: 1 - 2 days
MB, SK, AB: 3 - 4 days
West Coast & Maritimes: 3 - 5 days

What makes Gravid different from other weighted blanket companies?
Simple answer: premium materials and innovative design.

Gravid weighted blankets are made using 100% Tencel Lyocell; an eco-friendly, renewable, high-tenacity fibre which gives it high strength properties. It is softer than cotton, has a luxurious sheen and is extremely breathable. It is also naturally anti-bacterial and gentle on the skin.

For weight, Gravid weighted blankets use non-toxic, micro-rounded glass beads that have a diameter of 1mm. This is the optimal size of bead to keep the weight evenly distributed across the surface of your body. Glass beads are the best material for people with any type of auditory, sensory or physical sensitivities. They are quiet, making them ideal in a bedroom setting.
We invented ZipperTech: A zipper mechanism that goes around the full perimeter of your blanket to keep your Gravid weighted blanket perfectly attached to its cover. No sagging, no bunching.
Gravid weighted blankets also feature a double-stitched grid design along with 7-layer construction to ensure the weight stays evenly distributed for a lifetime. No leaking beads, no shifting weight...ever.

What is the return policy?
Once you receive your blanket, you have 14 Nights to try it out.
The Gravid weighted blanket uses deep touch pressure stimulation to help you relax and drift to sleep. However, it can take some time for your body to completely adjust to your new weighted blanket.
We recommend that you ease into it by using it a few hours at a time (while watching TV, reading a book, etc...) before using it for a full nights rest.
We highly recommend you sleep with it for at least a week to give your body a chance to adjust. If for any reason you are not satisfied with the item, ship it back to us and we'll refund you 100% of your purchase price.

Read the full refund policy here.
Do you have a store I can visit?
Gravid Weighted Blankets are available at over 50 retail locations across Canada, including Wellwise (by Shoppers Drugmart) and Pharmasave. Use our store finder to find a location near you.

Are you affiliated with Gravity Blankets?
Our company (Gravid.ca) is not affiliated with Gravity Blankets in any way and the products we sell are not the same.
Gravid.ca is based in Toronto, Ontario, Canada whereas Gravity Blankets is US-based.
Gravid is the only weighted blanket with ZipperTech™ securing mechanism for best-in-class weight distribution and durability.
Gravid ZipperTech™ Demonstration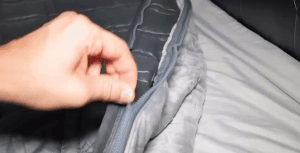 Gravid 3.0 Weighted Blanket being attached to a MicroPlush Cover using ZipperTech™ Attachment System.